Phoenix Tours 2024
Trail World – Trail Riding in Spain – April and October
Nürburgring, Germany – May
Highlands Adventure, Scotland September
Scroll down to see more details or go to bookonline.uk.com/trips to book
Trail World – Trail Riding in Spain –
26th to 19th April 2024 and 11th to 14th October 2024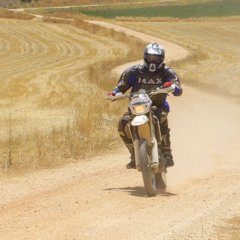 Day 1 – Arrival Day
Once you arrive at our bike base and beautiful accommodation, we'll hand you a nice cold beer (or soft drink), show you to your room and take a quick tour of your home for the next few days.
On the first evening you tootle off into the local village to enjoy a great meal and a few beers, then it's back to HQ for a good sleep before the fun starts in earnest the following morning.
Day 2 – 1st day of riding
We'll find our feet in the morning, easing you into riding the endless trails including wet and dry river beds, mountain passes and woodland tracks with a little tuition, tips and advice thrown in whenever necessary.
We break for Lunch, usually a very pleasant hour spent munching Tapas in a typical Spanish restaurant and then it's off to play on the trails again for the rest of the afternoon.
Arriving back at base at approx 17.30pm, it's time to relax, down a well earned cold beer, jump in the pool and swap tall tails of heroism on the trail. Something which will inevitably continue over dinner in the village this evening.
Day 3 – 2nd day of riding
Pretty much a case of "same again please", brekky at 8.30, for a 9.30 kick off, busting some dust with a mid day munch, then back on the trails 'till it's time for a beer and a dip once more. We'll round off again in the village with more tall tales of the trail…
Day 4 – Departure day
Chill out! If you sensibly booked your flight home for later in the day, enjoying the Spanish countryside. Have a dip in the pool, go for a long relaxing walk, grab some lunch in the village, whatever takes your fancy.
When you're good and ready, you can head back Malaga airport to catch your flight back to reality, at least until your next visit…
The cost is £900 including flights, (1 hand carry on luggage) from Gatwick Airport, trail riding, car hire but excludes food and drink. Please note, the costs may vary depending on flight price fluctuations
To book go to bookonline.uk.com/trips You will need to pay an non refundable deposit of £200 when booking, which is not refundable and the full payment must be made 4 months before the trip as we have to book the flights and car hire in full by then to get the best prices
Nurburgring – Germany
26th May to 1st June 2024

This area has some of the best biking roads in Europe, which we will be concentrating on, but it is also home to the famous Nürburgring which we will visit but may or may not go on depending on the weather.
We will be based in the village of Bad Bertich again, which is a world famous Spa Town. We will ride there in one day from the Eurotunnel and then spend the next 5 days exploring the world class biking roads in the area, before returning to the hotel in the evening for a relaxed meal and a few beers.
The cost is £850, half board for 6 nights including Eurotunnel costs.
Places are limited so it will be on a first come first served basis.
If you haven't been abroad on a bike before then why not join us on this trip as it will be a fabulous introduction to the wonders of biking in Europe as well as being with a good group of like minded bikers.
To book online go to bookonline.uk.com/trips. You will need to pay an non refundable deposit of £200 when booking, which is not refundable and the full payment must be made 4 months before the trip as we have to pay the hotel and Eurotunnel in full by then.
A Scottish Highlands Adventure – 1st to 7th September 2024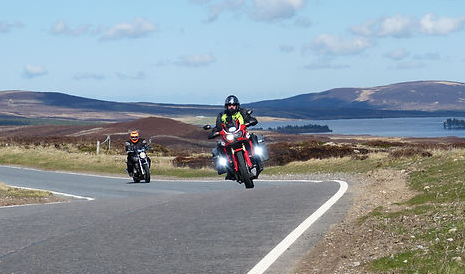 We are teaming up again this trip with our friends at Haggis Tours to bring you 6 nights and 5 riding days in scenic Scotland.
Based in Inverness we will be staying in a very modern Youth Hostel, close to the town centre. We will make our own way to the hostel on Sunday 1st September (we can arrange to ride up in groups if you want) but this will allow you to make your own choice of how long you take to get there, but you might want to set off on Saturday as its al long ride otherwise. For the next 5 days, we will set off each morning on a different ride, allowing you to leave your luggage at the Youth Hostel each day. These rides will be weather dependant and will cover some of the best roads the UK has to offer. We will also look to set off in smaller groups
The cost is £725.00 for the 5 days escorted tours and accommodation in Inverness
Acc Type:            Youth Hostel
Board: Self Catering
Basis: Shared Private Dorms with En-suite facilities – Phoenix use only.
Optional:             Separate Dorms Available for Female use – Phoenix use only.
To book got to Bookonline.uk.com/trips